Before replacing the door of the garage, every homeowner should ask, "Will this new door increase the value of my home?" Of course, most projects that improve your home add some value. However, an upgraded door is one of the most effective ways to make any home look better. In this article, we will explore why a new door is such a great investment and how it can increase the overall value of your home. So whether you are looking for an upgrade or want to discover your home repair options, keep reading to learn more about the benefits of installing a new garage door.
How Much Does a New Garage Door Increase a Home's Value?
Are you considering replacing your old garage door? If so, you will be happy knowing you could make a smart investment. Studies show that one of the most cost-effective ways to increase the value of your home is to install a garage door. In fact, the 2022 Cost vs. Value Report released by Remodeling Magazine found that a garage door replacement typically offers a 93.3 percent return on investment (ROI), making it one of the highest ROI improvements possible. Moreover, installing a steel model can offer even higher returns for 2023—up to 102.7 percent in some regions.
To make the most of your investment and get the best return possible, look for reliable brands and compare price points while keeping an eye out for current trends.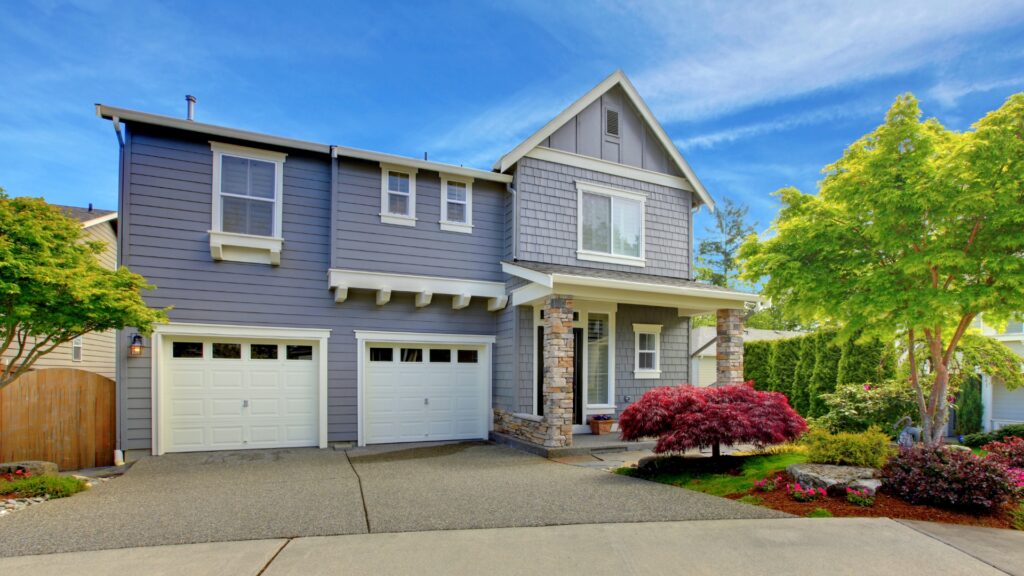 Ways a New Installation Improves House Value
Here are some things about your a new installation that can raise the value of your home:
Energy Efficiency
Modern garage doors come with insulation, preventing outside air from entering the garage. It keeps the garage and the inside of the house at a good temperature. Investing in an insulated door can help lower your energy bills by creating a barrier from the outside air and reducing air infiltration. When looking for a new door, look for one with a high R-value and weatherstripping.
Curb Appeal
Since garage doors take up a lot of your home's exterior surface area, they have much potential to make your home look better from the street. But if you want your door to improve the look of your home's exterior as much as possible, you must make it fit in with the rest of your house.
The material of your door is a big part of how your home looks from the street. Garage doors can be made of many different things, such as steel, fiberglass, real wood, and composite wood. If you want a more modern look on your home, use aluminum and glass. On the other hand, choose a wood door if you want people to notice how warm and farm-like the outside of your home is.
Security and Safety
A garage door that can keep a home safe is vital to you, your family, and potential buyers. Modern garage doors have safety features like photo sensors that stop the door from closing if something or someone is in its way. The newest garage door openers also have security features like codes that change when the door is used. That helps keep intruders out. You can even control your garage door anywhere and get updates on your devices.
Fewer Repairs and Maintenance
A new garage door is more durable, less prone to malfunction, and often has a warranty that guarantees years of reliable service. Plus, newer systems come with fewer moving parts and better engineering. These improvements can save you money on maintenance expenses.
Titan Garage Doors Lincoln NE is the go-to choice for homeowners in Omaha and Lincoln, NE looking to upgrade their garage doors. Our team specializes in installing quality brands like Clopay and Overhead Door. In addition, we provide other services such as garage door opener repair and spring replacement. We offer free estimates for all our services and commit to customer satisfaction. Contact us today and see why we are the top choice for garage door installation.